A Scoggins Family Site
---
This site is dedicated to research and recordation of the history of the Families with the sur name Scoggins. Contributions are greatly appreciated and can be e-mailed to J. R. Scoggins, Jr or snail mailed to P. O. Box 358, Frisco, Texas 75034. This site will be updated periodically as new material becomes available.
Currently research and documentation is being performed regarding the ascendants and descendants of one James Russell (J. R.) Scoggins who was born in South Carolina in 1840 and passed away in 1927 at Barry, Texas.
---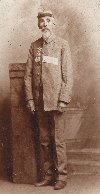 James Russell Scoggins was born of Jessie Scoggins and Mary Francis Sanland on November 14, 1840 in South Carolina. (Some records show November 18th) and died March 30, 1927 in Barry, Texas. He is buried in the Old White Church Cemetery outside Blooming Grove, Texas.
He enlisted in the Confederate Army October 5, 1861 at Camp Moore Louisiana and was assigned to Company B, 18th Louisiana Infantry. He was a Regimental wagoner and was captured and released when the war ended at Natchitochus, Louisiana on June 9, 1865. His
residence at release was given as Morgan County, Alabama
He was a Master and Royal Arch Mason
Census records show his occupation was Blacksmith, Farmer, Merchant, and cotton trader.
He married was married three times, first to Lavina Clarentine McLaren, then Elizabeth James, and, at the time of his death, to a Letha Mae Rogers.

---